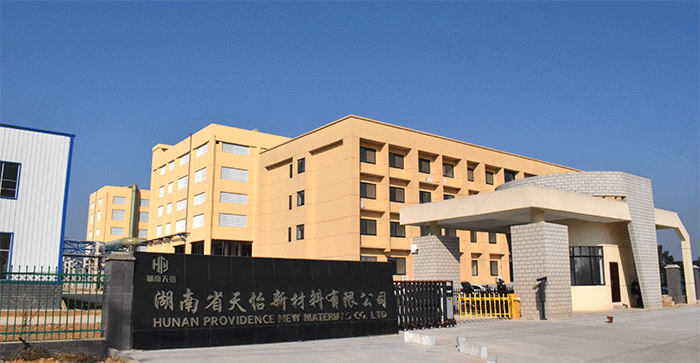 Hunan Providence New Materials Co., Ltd is a joint-stock and high-tech enterprise which was registered and founded in June 2018 with the registered capital of RMB80 million. The company is located in Yueyang Green Chemical Industrial Park (Yunxi District) of Hunan Province and occupied 67,000m2. Hunan Providence New Materials Co., Ltd is mainly engaged in R&D, production and marketing of high-end special Zeolite materials and multi-functional high efficient FCC catalysts, and will gradually extend to fields of other functional materials and new catalysts.
As the two major sponsors, Tianjin Evertruth International Trading Co., Ltd and Yueyang Sciensun Chemical Co., Ltd have been active in the catalyst industry domestically and abroad for many years. Located in the economic center of Bohai Rim and with strong ability of product development and technological innovation, Tianjin Evertruth is primarily engaged in domestic and international trading and scientific research. In addition to delivering high-quality products to customers, they can also provide timely and reliable technical support and after-sale service. Yueyang Sciensun Chemical Co., Ltd has also been working on research, development, manufacturing and sales of refining catalysts and additives for more than ten years. Their dominated products of propylene enhancing additive, octane promoting additive and DeSOx additive have been in the leading position inside China, and were widely used in Sinopec, PetroChina and local refineries. Their products were highly praised by the users and their market share has been ahead of similar enterprises.
Hunan Providence New Materials Co., Ltd combines the advantages of Tianjin Evertruth and Yueyang Sciensun in technology, marketing, talented personnel and management, and is indeed a powerful combination. As an enterprise in new material industry, Hunan Providence has good foundation, high starting point, most advanced process route in plant construction, reasonable process flow, superior equipment and advanced technology, its developing prospect is worth expecting. Hunan Providence New Materials Co., Ltd is committed to forge the company into a leading enterprise in Zeolite subdivision and FCC additives.
The producing capacity of 3000 tons/year Y Zeolite, 3000 tons/year Z Zeolite and 6000 tons/year FCC additive of Hunan Providence New Materials Co., Ltd will be fully achieved by the end of Dec 2020, and will provide customers with a variety of high-quality products at that time. More details could be found in the following catalog.
With a board of directors and a board of supervisors, Hunan Providence New Materials Co., Ltd will operate according to the modern governance structure, and will implement General Manager Responsibility System under the leadership of board of directors in routine operation and management. Hunan Providence New Materials Co., Ltd aims to build the company into an excellent enterprise that reassures the government, reassures the community, recognized by employees and makes shareholders proud by implementing the business principle of integrity and law-abiding, adhering to the working creed of safety first and environmental protection first and pursuing people-oriented as the management concept. Hunan Providence New Materials Co., Ltd is a molecular sieve manufacturer which can manufacture ZSM-5 zeolite,Y zeolite,USY zeolite,NaY zeolite and REY zeolite in China.